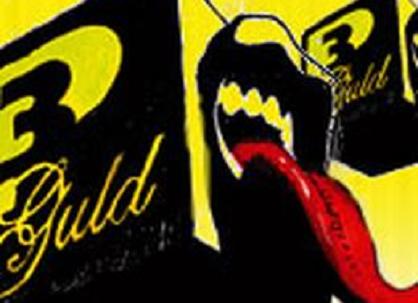 Today, everyone's been blogging about the wacky acceptance speech Fever Ray singer Karin Dreijer Andersson gave at the Swedish P3 Guld awards show last week. To jump on the obvious pun bandwagon, I'll say that it's appropriately face-melting.
What's really wonderful about this clip too, aside from the utter weirdness, is the fact that this is an awards show for public radio. It's like an awards show of the future. The seating arrangements are grouped into scattered squares, there's a strange connect-the-dots pattern on the floor and instead of tall, busty models to hand out the award, the host is flanked by two matching bald men dressed in bright red.
I was curious about this P3 Guld, and how a public radio station can afford to create such fancy bizarre events, and I found that P3 is part of Sveriges Radio. Sweden's public radio broadcaster is commercial-free, independently-owned and funded by the government. They have a bunch of stations that have been modeled after the BBC radio stations. P3 plays popular music, is streamable over the Internet here and is totally sweet.
Right now they're talking about what electronic music they're playing would be good on a soundtrack to a zombie movie. Annie's around. Punk is pronounced "pooonk." A live broadcast of an Antony & The Johnsons show from Stockholm is coming up. This is just lovely.